From Tuesday, May 24 to Thursday, May 26, the Innovation Institute for Fan Experience (IIFX) will host its first in-person FANCENTRIC™ International Conference & Expo at Caesars Palace in Las Vegas, Nevada. On Wednesday, May 25, IIFX will host a luncheon to honor winners of its four innovation awards: Technology Innovation Leader, Women Innovator Award, Venue Award, and Technology Award. The winners were selected for their innovative use of technology to enhance the fan experience throughout the sports and entertainment industry.
The 2022 Innovation Award Winners are:
TECHNOLOGY INNOVATION LEADER: Awarded to a person whose work is impacting the sports & entertainment industry with positive change using technology.
DENNIS WILLIAMS – Senior Vice President and General Manager at Fiserv Forum in Milwaukee, Wisconsin. Fiserv Forum is the home arena of the 2021 NBA champs. It is also an icon of revitalization, serving as the catalyst for the Deer District's renaissance, shaping the downtown Milwaukee area into today's vibrant destination. Dennis Williams was mission-critical to the safe and healthy return of fans to the arena in February 2022. With the support of longtime partner Johnson Controls and its OpenBlue Healthy Buildings solutions suite, Williams met his goal of creating a smart fan experience that was thrilling and healthy, safe, and secure. Williams and Johnson Controls worked together to reach new heights with sustainability and building health, eventually earning the arena LEED Gold certification in 2022. William's vision and expertise has created an environment where visitors feel safe coming to Fiserv Forum and the surrounding buildings in the Deer District. Thanks to William's leadership and vision, Fiserv Forum is now better equipped to provide clean air through disinfection, improved ventilation and increased filtration.
WOMEN INNOVATOR AWARD: Awarded to a person who is advancing opportunities and paving the way to success for women in the sports & entertainment industry.
KATHY CARTER – Chief Executive Officer at LA28, the Los Angeles Organizing Committee for the Olympic and Paralympic Games 2028. Carter's demonstrated ability to forge strong partnerships between major sports, sponsors, and government stakeholders makes her the right person to lead Los Angeles's $7 billion Olympic venture. Her organizational and marketing prowess enables Carter to create a grand partnership among the city's stakeholders and deliver a memory-making Olympic experience for athletes, fans, and sponsors. Her goal is to set the standard for sustainable mega-events everywhere and make that knowledge universally accessible and applicable anywhere in the world. Before joining LA28, Carter was a founding member of Major League Soccer (MLS), spending a total of 20 years at MLS and Soccer United Marketing, including eight years as president. Previously she held positions with AEG in Los Angeles and served as manager of partnership marketing for the organizing committee behind the 1994 FIFA World Cup™.
VENUE AWARD: Awarded to a venue that has deployed a cutting edge, innovative solution that increases and adds value to the fan experience.
TOTTENHAM HOTSPUR STADIUM – Located in London, England, Tottenham Hotspur Stadium, is a multipurpose stadium with several cutting-edge innovations with the fan in mind. It has the world's first dividing, retractable football pitch, which has a synthetic turf field underneath for National Football League (NFL) London Games, concerts, and other events. The stadium has four large LED screens and 1,800 video screens to ensure fans keep up with the action anywhere in the stadium. It is home to the world's first stadium microbrewery, producing 1 million pints of craft beer a year and can deliver up to 10,000 pints a minute to serve its fans. It is the first cashless stadium in the United Kingdom. It offers even the most "connected" fans stadium-wide connectivity with more Wi-Fi access points, Bluetooth beacons, and greater bandwidth than any stadium
TECHNOLOGY AWARD: Awarded for an innovative technology that sports& entertainment venues can deploy to create an enjoyable fan experience grounded in safety, security, health, and/or service.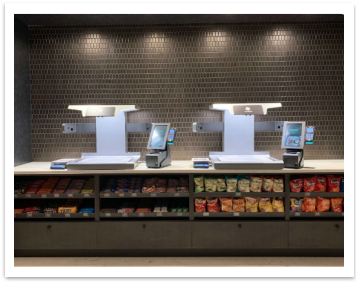 MASHGIN – Mashgin is the world's fastest self-checkout system powered by AI and computer vision. Sports & entertainment fans demand instant gratification. Mashgin's Touch-less Checkout System eliminates consumer frustration while increasing revenue with checkout that is 4X faster than cashiers and traditional points-of-sale. Mashgin's touch-less technology provides a frictionless, fully automated, cashless, and touch-less fan experience. Mashgin is deployed in more than 700 locations that span major convenience store chains, Fortune 500 companies, and more than 20 iconic sports stadiums. Mashgin's visual checkout system can recognize produce and prepared food by sight. Its AI and camera capabilities, known as computer vision, recognize multiple items at once without the need for barcodes, RFID, or other label ID methods. Fans simply place goods and items on the Mashgin kiosk's tray and complete the transaction using the digital payment of their choice. Its software can be easily updated to adapt to new products and labeling systems without expensive hardware updates. 
These technology and innovation industry leaders will join the diverse group of individuals who will be speaking at the FANCENTRIC Conference. The speakers highlighted today will be joining confirmed speakers Larry Olmsted, Kim Stone, Mario Coutinho, Jim Mercurio, Paul Turner , Scott McCartney, John Petrone, Shawn Trell, Nick Spampanato, Pat Christenson, Julie Giese, Jeff Keas, Brian Herbert, Laura Edell, Eric Golebiewski, Daniel Heal, Dr. Todd Harple, Lisa Furfine, Jennifer "Jae" Pi'ilani Requiro, Dan Donovan, Kasia Hanson, Matt Pasco, Dr. Tilman Jolly, Matthew Kenny, Dr. Lindsay Gietzen, Ryan McConnell, Chris Yigit, Philippe Bourdarias, and many others. 
Hotel rooms with competitive rates are available at all Caesars properties through Caesars.com.
Visit the official FANCENTRIC website to learn more about conference details, sponsorship and exhibitor opportunities. To register, you can purchase a ticket HERE.